Keurig Brewer & Keurig K-Cup Coupons Best Price Deals
Keurig Brewer & Keurig K-Cup Coupons Best Price Deals
Keurig Brewer & Keurig K-Cup Coupons Best Price Deals for 2012
Find Keurig Brewer and K-Cup offers at GreenMountainCoffee, QVC, Amazon and other retailers here.
Green Mountain Coffee Keurig Brewer Offers
Get 15% off Keurig Brewers with the Green Mountain Coffee Cafe Express Program
If you are going to buy a Keurig Brewer, get 15% off the Keurig now and 15% off any Keurig orders including Keurig K-Cups with the Café EXPRESS® program.
Keurig Brewer Prices after Cafe Express discount:
Cafe Express offers Green Mountain Coffee best prices with discounts on K-Cup® packs, Vue™ packs, and bag coffee, as well as non-coffee items like Keurig® coffee makers, coffee accessories, gourmet food, and gift baskets.
There is a good deal on the Keurig Platinum Series Quiet Brewer w/48 K-Cups & My K-Cup at QVC for $159
This Keurig Brewer offer comes with:
A Keurig Platinum Series Quiet Brewer in your choice of Cinnamon, Black or Silver. This model holds 60 ounces and can brew 5 different cup sizes up to the 12 ounce size
A water filter
A box of Gloria Jeans K-Cups for Keurig
A box of Donut Shop Coffee K-Cups for Keurig
A My K-Cup re-usable refillable coffee filter
Keurig Platinum Plus Series Brewer Features:
Brews or heats water in approximately two minutes
Five brew sizes: 4-oz, 6-oz, 8-oz, 10-oz, and 12-oz
Rinse feature dispenses 4-oz of water between brew cycles
Hot water on demand
Quiet brew technology
Heats from 187-192 degrees F
60-oz water reservoir
Measures approx 12″L x 8-1/2″W x 12-1/2″H
UL listed; 1-year LMW
Made in China
Best price Keurig Bundle currently available
Get the Keurig Platinum Series Brewer bundle pack deal for $159 here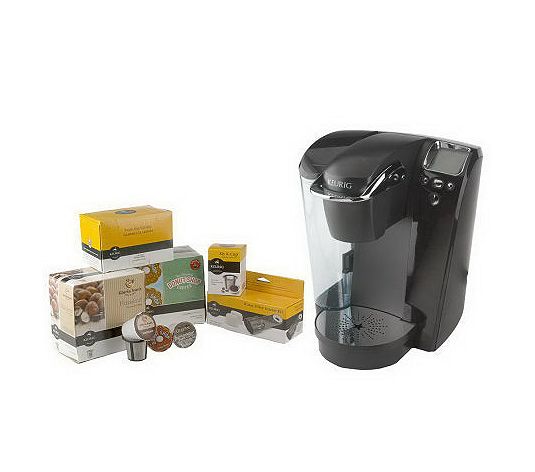 Keurig Platinum Plus Series Brewer w/ 62 K-Cups & My K-Cup $149
This is the best price we've seen yet on a Keurig Platinum plus there is lots of extra Keurig supplies and free K-Cups, and QVC has the black and the cinnamon color Keurig
Keurig Platinum Plus Series brewer (the largest water reserve model)
Keurig My K-Cup
Keurig water filter starter kit with two filters
62 K-Cups (18 Green Mountain Nantucket K-Cups, 16 Cafe Escape Milk Chocolate K-Cups,  16 Green Mountain Apple Cider K-Cups, and a 12-count variety pack)
Retail Value: $264.11
QVC Price: $181.50
Special Price: $149.95
Shipping & Handling: $14.22
This Keurig Platinum Plus Series Brewer Bundle Pack includes
Platinum Plus Series brewer; My K-Cup; water filter starter kit with two filters; and 62 K-Cups
K-Cups include 18 Green Mountain Nantucket K-Cups, 16 Cafe Escape Milk Chocolate K-Cups, 16 Green Mountain Apple Cider K-Cups, and a 12-count variety pack
Variety pack: Barista Prima Italian Roast; Newman's Own Special Blend; Coffee People Donut Shop; Green Mountain Coffee Nantucket Blend; Emeril's Big Easy Bold; Green Mountain Coffee Breakfast Blend; Caribou Coffee Caribou Blend; Tully's French Roast; Timothy's Colombian Decaf; Van Houtte French Vanilla; Gloria Jean's Hazelnut; Celestial Seasonings Sleepytime Herbal Tea
Keurig Platinum Plus Series Brewer Features:
Brews or heats water in approximately two minutes
Five brew sizes: 4-oz, 6-oz, 8-oz, 10-oz, and 12-oz
Rinse feature dispenses 4-oz of water between brew cycles
Hot water on demand
Quiet brew technology
Heats from 187-192 degrees F
60-oz water reservoir
Black and Cinnamon exclusive to QVC until 1/1/12
Measures approx 12″L x 8-1/2″W x 12-1/2″H
UL listed; 1-year LMW
Made in China
Get the Keurig Platinum Series Brewer bundle pack deal for $149 here